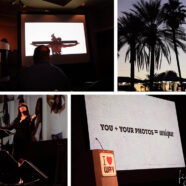 Mar

25
Tags
Related Posts
Share This
My very first WPPI experience
One week ago I returned from my trip to Las Vegas. What an incredible week that was!
I was able to attend the biggest international conference for Wedding & Portrait Photographers (WPPIWedding & Portrait Photographers International). I met many great photographers such as: Jason Groupp, Sue Bryce, Jeremy Cowart, Jamie Schultz, Lori Nordstrom and many others. I made some friendships, listened to many teachings about the craft of photography and finally joined the 'crew' of professional photographers (PPA). What a joy to see what an incredible team we are!
To get a glimpse of the atmosphere of the meeting – see the clip below.
I learned so many new things at this meeting that it's hard to get my head around this. Let me try to share what struck me the most…
First and foremost: do NOT to try to be someone else' copy. It's good to be different. As Matthew Jordan Smith said:

The secret of being successful is putting YOU in every picture
When it's hard, always remember why you started to take pictures in the beginning.

It's a difficult choice to make that decision to be an artist, but when you choose it – it's a great one.
Another important thing to remember: do NOT go for perfection every time in your photographs – go for emotions. They are the key to success.
Also, remember that photographs have a voice and can speak. What is my photography saying to others? That is an important question to ask. To be a voice for someone else – it's a big part of being a great photographer.

You've got a gift – go change the World!
I experienced this last point very strongly at the meeting – especially from a great Dutch photographer Henk van Koten. He was discussing the topic: "How to go from Cliché to Creativity". His photographs were so strong and meaningful, their 'voice' so loud – I was so impressed I had tears in my eyes… For me it was the strongest experience of the power of photography in my life.