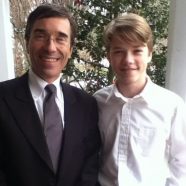 Jan

29
Tags
Related Posts
Share This
One life
Many times we learn the most valuable lessons in life the hard way. I don't know why, but looks like for me it's the only way that could change anything. Through all my mistakes in the past I've learned a lot. Lately, a new lesson came.
This week I've lost one of my closest friends in the USA – Denis Leblond. Always fit and in good health, he died unexpectedly while sleeping. He was still a young man at 57 – what a shock! I just can not believe it. He was the most grateful and compassionate person I knew. Always on a mission to help people – and not just with his words of wisdom, but with the heart full of joy and hands ready to work…
I've learned from him that life is about doing what's difficult and enjoying it. Being true to myself and having fun with all things that are coming my way. It's about gratitude, and most of all – about other people and putting smile on their faces.
Pope Francis says in his latest writing:

Life grows by being given away, and it weakens in isolation and comfort. Indeed, those who enjoy life most are those who leave security on the shore and become excited by the mission of communicating life to others"
What a great and meaningful words! Such was Denis's life…
He's been recently involved with Fidesco – a charity non-profit organization that sends volunteers all over the world to work in most desolate areas and among the poorest of the poor. He was the CEO of Fidesco USA, taking care of all the fundraising and training of the volunteers. Now the organization is without its key person, the volunteers currently out there have no-one to go to. See what Fidesco is about:
If you are reading this post to this point, please consider helping Fidesco with your donation.
Live your life the best you can and enjoy every minute of it – have fun! God can take you at any moment – do not waste it.