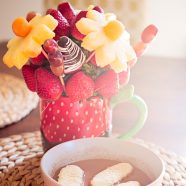 Apr

17
Tags
Related Posts
Share This
Chocolate Soup
My boys recently picked up one of the many Polish cookbooks that I have in my house, and guess what they found? A recipe for chocolate soup! Of course, they immediately demanded that we do it, and so we did.
The recipe is surprisingly simple – serves 4 and takes about 30 minutes to prepare.
Ingredients:
One bar of dark chocolate (100g)
A quart of milk
4 tablespoons of sugar
1/2 of vanilla stick
2 egg yolks
Directions:
Boil the milk with vanilla stick, remove the stick.
Grate or crush the chocolate into small pieces, add to the hot milk and bring to a boil.
Blend the egg yolks with sugar and add to the hot milk, stirring continuously for about 10 minutes.
Cool the soup down and put in the refrigerator.
Serve chilled with biscuits or meringues.